Exhibitions and projects have been made possible with
the support of the Mondriaanfonds, Amsterdam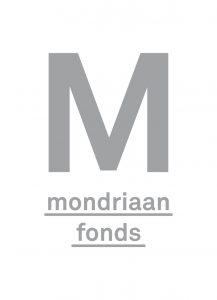 Current and upcoming exhibitions :
Duo exhibition
Huub Hannen Galerie, Maastricht
17.03.2018 – 21.04.2018
Vernissage Saterday 17th of March
www.huubhannen.nl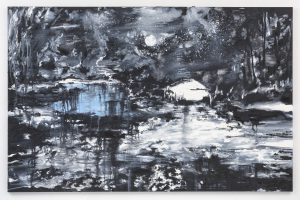 Silver (25 year) jubilee groupshow II
Jan van Hoof Galerie, 's-Hertogenbosch
25.02.2018 – 18.03.2018
Vernissage Sunday the 25th of February
www.janvanhoofgalerie.nl

"BOLD"
Triple exhibition at Galerie LOOF, Jubbega
18.02.2018 – 25.03.2018
Vernissage Sunday the 17th of February
www.kunsthuisloof.nl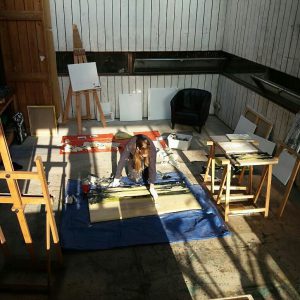 Residency Vincent van Gogh Huis
"In de voetsporen van Van Gogh", Van Gogh Artist-in-Residence
September – October 2017
www.vangoghhuis.com
Solo exhibition of the results of my residency
29.10.2017 – 26.11.2017
Finissage Sunday the 26th of November, 14.00-17.00 h.
Artist Talk by Simons about this residency at 15.30 h.
Van Gogh Gallery, Zundert
Beautiful article about my residency by Esther van Rosmalen, please click here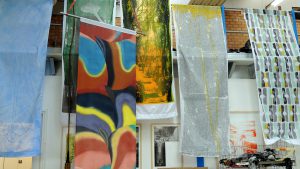 "Disobedient Bodies, the autonomous life of things #1"
Groupshow with Tim Breukers, Hadassah Emmerich, Pierre Cops, Nacho Carbonell, Lorena Miguel, Lilia Scheerder, Ingrid Simons, Alice Schiavone,
Jordi Rovers, Frans Franssen, Sarah Joy Zwarts, Marjolein Landman, Carlo Lorenzetti, Andre van de Wijdeven, Sigrid Calon
The artists were invited to make a banner of 3 by 1 m. for the DDW 2017
21.10.2017 – 29.10.2017
Beeldenstorm (outdoor exhibition), NRE terrein, Eindhoven
I will be present Sunday 22 & Monday 23th of October, 11.00 – 18.00 h.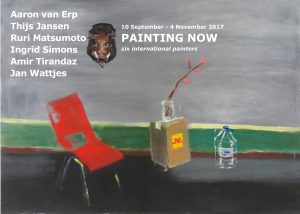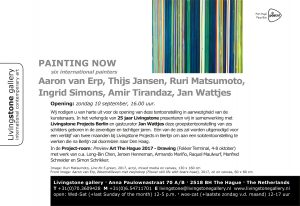 "Painting Now (six international painters)"
Groupshow, Livingstone Gallery, The Hague
Curated by Jan Wattjes with a.o. Aaron van Erp, Thijs Jansen, Ruri Matsumoto, Ingrid Simons, Amir Tirandaz, Jan Wattjes.
10.09.2017 – 04.11.2017
Beautiful article by Albertus Pieters, please click here


"Zonnewende"
Solo exhibition
Jan van Hoof Galerie, 's-Hertogenbosch
10.09.2017 – 01.10.2017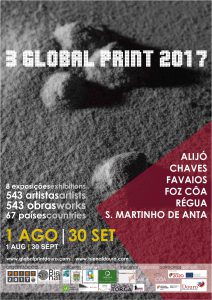 3rd Global Print 2017
International Printmaking Biennial Exhibition
01.08.2017 – 30.09.2017
Coa Museum, Foz Coa City, Portugal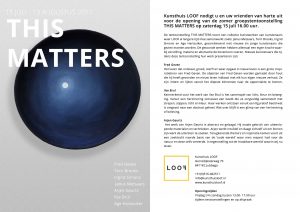 "This Matters"
Groupshow with Janus Metsaars, Terri Brooks, Ingrid Simons, Age Hartsuiker, Fred Geeven, Ilse Brul & Arjen Geurts
Galerie LOOF, Jubbega
15.07.2017 – 13.08.2017
And a beautiful article in Friesch Dagblad!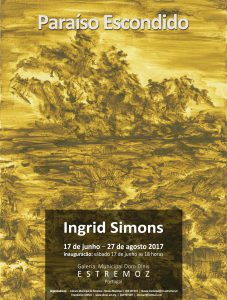 "Paraiso Escondido (Hidden Paradise)"
Solo exhibition at the Galeria Municipal D. Dinis
Museu Municipal de Estremoz Prof. Joaquim Vermelho, Estremoz, Portugal
17.06.2017 – 27.08.2017
Vernissage : Saterday the 17th of June at 18.00 h.
I will be showing paintings, silkscreenprints & ceramic works, made in and/or inspired by Alentejo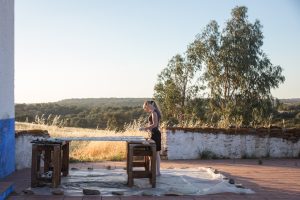 Residency at Fundacao OBRAS, Portugal
May & June 2017

Please come and visit my blog to see the development of my new work (paintings, ceramic works, short film and installation)
during my residency at Obras Art Residencies in Portugal!
ingridsimonsinportugal.blogspot.nl
KunstRAI 2017
My new paintings will be represented by Kunsthuis LOOF
Stand 38
Stan Van Steendam, Janus Metsaars, Ingrid Simons en Frans Beerens
31.05.2017 – 05.06.2017
KunsthuisLOOF
KunstRAI
"Stilleven, 102 vazen van 99 kunstenaars"
Exhibition by the Vaasotheek
KunstFort Asperen
29.04.2017 – 24.09.2017
www.vaasotheek.nl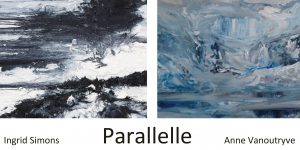 "Parallelle"
Duo exhibition Anne Vanoutryve (B) & Ingrid Simons (NL)
Paintings – drawings – graphic art
15.04.2017 – 14.05.2017
Vernissage : Saterday 15th of April at 15.00 h.
by Mw. E. Vermeersch – arthistorian and
Mw. K. Ramboer – Schepen Cultuur, city of Diksmuide
Montanus.5, Diksmuide (B)
www.montanusvijf.be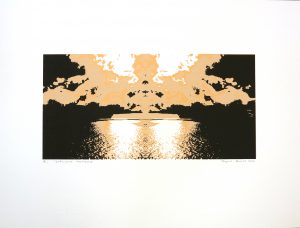 This silkscreenprint will be offered as a special editon on the occasion of this exhibition
New article from Ediksmuide : http://www.ediksmuide.be/nieuws/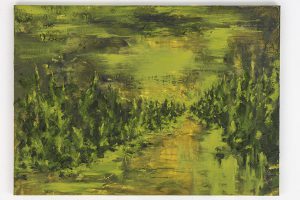 "APPÈL in de kazerne"
Groupshow of 7 galleries at the Kazerne, Paradijslaan 2-8, Eindhoven
04.03.2017 – 02.04.2017
NEW PAINTINGS ON SHOW
My work will be represented by Jan van Hoof Galerie
Vernissage : Saterday 4th of March, 15.00-19.00 h.
I will also be present on Saterday the 18th of March
janvanhoofgalerie.nl
THIS PRESENTATION WILL BE PROLONGED UNTIL MONDAY THE 17TH OF APRIL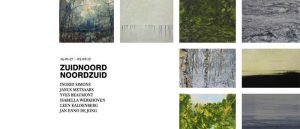 "ZUIDNOORD – NOORDZUID"
Kunsthuis LOOF, Jubbega
Groupshow with : Janus Metsaars, Yves Beaumont & Ingrid Simons
Guests : Isabella Werkhoven, Jan Enno de Jong, Leen Kaldenberg
14.01.2017 – 05.02.2017
kunsthuisloof.nl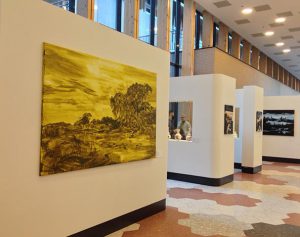 "WANDERING"
Solo exhibition at Jeroen Bosch Ziekenhuis, 's-Hertogenbosch
20.01.2017 – 31.03.2017
Paintings, silkscreenprints & ceramic works will be on show
The exhibition can be visited during opening hours of the hospital
jeroenboschziekenhuis.nl
NEW PUBLICATION
"BRIEVENPROJECT NEDERLAND & PORTUGAL" /
"PROJETO EPISTOLAR PORTUGAL & PAISES BAIXOS"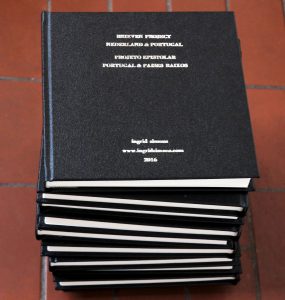 For more information please visit "Artist Publications & Special Edition"on my website
January 2017
Costs 30 euros ( info@ingridsimons.com )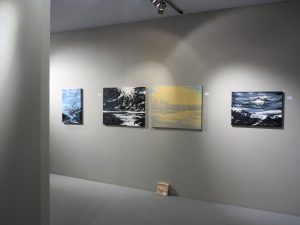 PAN Amsterdam
with Huub Hannen Galerie
Groupshow with Mirjam Abraas, Simone van Bakel, Toon Laurense & Ingrid Simons
20-27 November 2016
Stand 81
Amsterdam RAI (hal 8)
(please click here)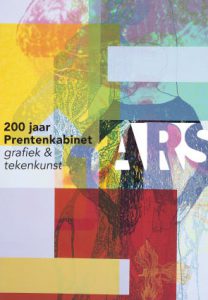 "200 jaar Prentenkabinet"
12.11.2016 – 27.11.2016
I am very honored, that my work has been selected for the exhibition
"200 jaar Prentenkabinet, grafiek en tekeningen"
in Leiden. The opening of this exhibition and also the book presentation of
"For Study and Delight, Drawings and Prints from Leiden University" will take place on Sunday the 13th of November at 15.00 h. I will be present.
Groupshow with Annesas Appel, Eugène Brands, Kees Buurman, Dick Cassée, Robbie Cornelissen, Paul van Dongen,
Cathelijn van Goor, Dolf Henkes, Wout van Heusden, Stefan Hoffmann, Nour-Eddine Jarram, Peter Kalkowsky,
Bert Kienjet, Cees Kortlang, Rens Krikhaar, Bas Meerman, Rinke Nijburg, Inez Odijk, Piet Ouborg, Alexandra Roozen, Ingrid Simons, Carel Visser en Justin Wijers
Ars Aemula Naturae, Leiden
www.arsaemula.nl

Grote Brabantse Kunstkalender 2017
My work has been selected to be a presented in the Grote Brabantse Kunstkalender 2017
and is shown on the calender page of May the 2nd 2017.
Trichis Publishing & Kantoor Kraaij, Provincie Noord-Brabant, BKKC, De Kunst van Brabant, a.o.

Studytrip
Denmark & Sweden to study the Northern light, nature & art
Fall 2016
"Hommage aan Alma Tadema"
Groupshow
Especially for this exhibition I made a new painting of 90 x 70 cm. inspired by Alma Tadema.
30.09.2016 – 26.11.2016
Dronryp, Friesland
"Vrij naar Jan Mankes"
23 September – 30 October 2016
A selection of artists were invited to respond to the Jan Mankes painting "Slootje met overhangende dopheide",
Catalogue is available
The works will be auctioned online to support the museum
Museum Belvedere, Heerenveen
www.museumbelvedere.nl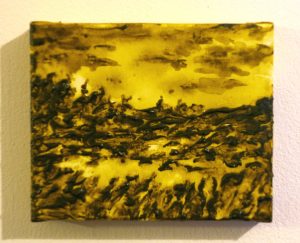 "IMAGO MUNDI"
Luciano Benetton Collection Italy
A selection of Dutch artists were invited to make a small work of 10 x 12 cm.
Especially for this exhibition I made a new painting, called "Ochtendgloren"

Catalogue is available (It)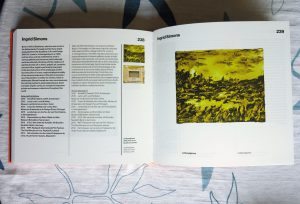 Groupshow Huub Hannen Galerie
11.09.2016 – 08.10.2016
Participating artists :
Maartje Frenken, Toon Laurense, Mirjam Abraas, Nikki Pelaez, Reinoud van Vught, Martijn Van Erp & Ingrid Simons
www.huubhannen.nl
10-08-2016 – 31-10-2016
Douro, Alijo (Portugal)

Guest studio in Kreuzberg (painting)
Druckwerkstatt des BBK Berlins (lithography)
Summer 2016
Made possible by the support of the Mondriaanfonds, Amsterdam
"Tuin der Kunsten"
09.07.2016 – 02.10.2016
Kasteeltuinen Arcen, Lingsforterweg 26, Arcen
Groupshow with Arjan van Arendonk, Arjen Markenstein, Bas Meeuws, Eelco Brand, Frank Bruggeman, Hanneke Giezen, Ingrid Simons, Iris Bouwmeester, Jorn van Leeuwen, Les Deux Garcons, Lukacs en Broersen, Marcel Berlanger, Margriet Smulders, Marinke van Zandwijk, Marian Laaper, Maze de Boer, Reinoud van Vugt, Ronald Zuurmond, Ruud Simons, Suzanne Jongmans, Tom Liekens
Kasteeltuinen Arcen, Museum van Bommel van Dam & Galerie Wilms
www.vanbommelvandam.nl
www.galeriewilms.nl
www.kasteeltuinen.nl
Residency Portugal 2016
Final presentation
of the results in painting and ceramic works of this 2 month residency at Fundacao OBRAS (Portugal) will be presented on Friday the 17th of June,18.00-20.00 h.
My new paintings will be presented in Studio Branco and my new ceramic works in the patio.
Fundacao Obras, Herdade de Marmeleira, Estremoz (Portugal)
ingridsimonsinportugal.blogspot.nl
KunstRAI, Amsterdam
My work will be on show with Kunsthuis LOOF at the KunstRAI Amsterdam (stand 34)
1 – 5th of June 2016, RAI, Amsterdam
www.kunstrai.nl
kunsthuisloof.nl
Detail participants (please click)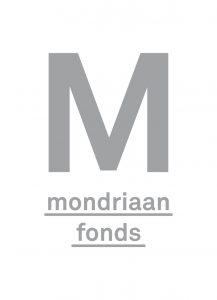 Awarded "Werkbijdrage Bewezen Talent"
On 2 May 2016 I got the great news that I was awarded the grant "Werkbijdrage Bewezen Talent"
(Stipendium Program for Established Artists) by the Mondriaanfonds, Amsterdam for my work!
Please click here