"Nothing is more abstract then reality"
(Morandi)
My name is Ingrid Simons.
I am a visual artist from the Netherlands (1976),
who annually works in Portugal (Alentejo),
Germany (Berlin) and Norway (Hardangervidda).
I am a painter (oil),
I make graphic art (lithographies, silkscreenprints & toyoboprints),
ceramic works and short films.
I am interested in deconstructing the landscape and reconstructing a new, physical,
raw reality of my personal experience.
I am interested in The Sublime,
(re)connecting with the land, her light, her history ; experiencing her.
The resulting 'landscapes' do not refer to nature as it exists, nor to photographs or images,
they themselves ARE expressive spaces that only came into being through the act of painting.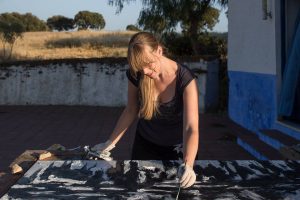 You can follow my residencies in Portugal on ingridsimonsinportugal.blogspot.nl